Wicked Tickets: Broadway Prices, Where to Buy Cheap ticket, Best Seats
Looking for tickets to experience the enchanting world of the Wicked Musical? Look no further than wickedtour.net, your ultimate destination for securing your place at this sensational show. With a user-friendly interface and comprehensive information, our website is designed to offer you the quickest and easiest way to purchase Wicked tickets and get to your beloved musical.
At wickedtour.net, you can explore the magical tale of the Wicked Witch of the West and Glinda the Good Witch while securing the best seats and prices. Our platform exists to ensure that you have a seamless ticket-buying experience. It's allowing you to focus on the anticipation of witnessing the captivating performances, mesmerizing music, and breathtaking production values of Wicked.
We understand the importance of finding the perfect seats to fully immerse yourself in this extraordinary musical. With our detailed seating charts and real-time availability, you can easily select the seats that offer the best views and ensure a memorable experience. In addition to offering Wicked tickets, our website is a treasure trove of information about Wicked. Delve into the fascinating backstory, learn about the talented cast and crew, and explore the awards and accolades this sensational musical has garnered. Also, you can read the latest Wicked news.




Don't miss out on the opportunity to be part of the Wicked experience. Visit wickedtour.net today, where you can purchase your Wicked tickets and dive into the enchanting world of this iconic musical.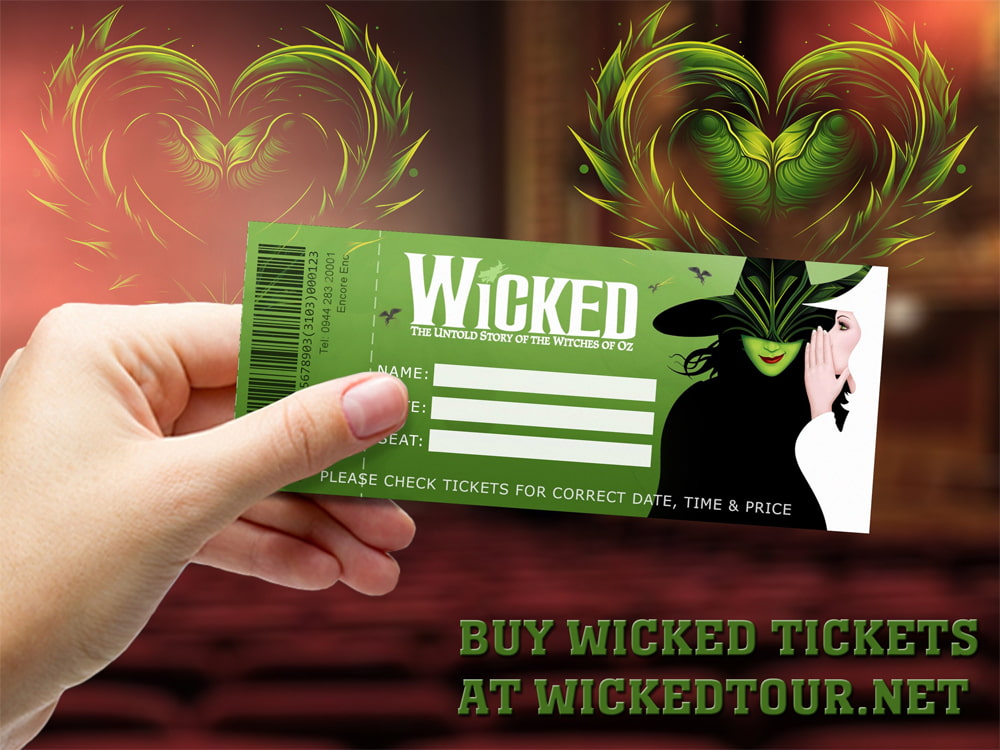 Wicked Broadway Tickets
Experience the magic of Wicked on Broadway with our exclusive Wicked Broadway tickets. Immerse yourself in the spellbinding story of Elphaba, the Wicked Witch of the West, and Glinda, the Good Witch, as they navigate their extraordinary journey in the Land of Oz. With our premium selection of tickets, you can secure the best seats in the house for this spectacular production. So, if you are searching for Wicked tickets NYC – buy them here!
When it comes to Wicked Broadway tickets, we understand the importance of finding the perfect seats to fully appreciate the breathtaking performances. So, whether you prefer a front-row experience to witness every detail or a seat with a panoramic view to capture the grandeur of the stage, we have options to cater to your preferences. Our carefully curated seating charts and detailed descriptions ensure that you can choose the seats that provide the optimal viewing angle for this mesmerizing musical.
For those seeking an even more luxurious experience, we offer premium seats that offer enhanced comfort and exclusive amenities. These premium options provide an extra touch of elegance and ensure a truly unforgettable evening at the theater. Additionally, if you're looking for an exciting chance to win discounted tickets, be sure to explore the Wicked Lottery. The Wicked Lottery gives you the opportunity to enter for a chance to purchase highly coveted tickets at a reduced price. It's a thrilling way to try your luck and secure a spot at this extraordinary Broadway production.
Don't miss your chance to be part of the magic and wonder of Wicked on Broadway. Get your tickets today and prepare to be transported to the enchanting world of Oz!
Wicked Original Broadway Cast
The Wicked Original Broadway cast featured Idina Menzel as Elphaba and Kristin Chenoweth as Glinda, captivating audiences with their powerful performances. Their chemistry and extraordinary vocal talents brought the iconic characters to life. They set the stage for the immense success and enduring popularity of the musical. Now, in 2023, Alyssa Fox plays Elphaba, and McKenzie Kurtz plays Glinda in the Broadway Wicked show.
Wicked National Tour Tickets
The Wicked National tour 2023-2024 is picking up steam right now. So, embark on a thrilling journey with Wicked Tour tickets and witness the captivating story unfold in cities across the country! Planning ahead and booking your tickets for Wicked in advance is a wise decision. It ensures you secure your place at this extraordinary production and allows you to choose from the best available seats.
With the Wicked National Tour, each venue offers its own unique seating arrangement and levels of seats. It's essential to check the specific venue you wish to visit. This will give you a comprehensive understanding of the seating options available. From orchestra seats that bring you up close to the action to mezzanine and balcony seats that offer a broader view of the stage, there's a perfect spot for every theatergoer's preference.
Booking your tickets for Wicked in advance is just a great ider. You will not only guarantee your admission but also increase the likelihood of snagging the seats that best suit your preferences. Popular tour stops can fill up quickly, and securing your tickets early ensures you have the widest selection available. Whether you're a fan of the stunning vocal performances or the dazzling set designs, experiencing Wicked on the National Tour is an unforgettable experience. Take the opportunity to witness this beloved musical in your city and be transported to the mesmerizing world of Oz. Order Wicked 2023 tour tickets now!
Don't wait until the last minute — book your Wicked National Tour tickets in advance. Secure your chance to be part of this extraordinary production. Prepare to be captivated by the enchantment and wonder that await you on this awesome musical!
Wicked National Tour Tickets & Venues
| | | | |
| --- | --- | --- | --- |
| City | Dates | Venue | Tickets |
| Philadelphia, PA | 11/01/23 – 11/26/23 | Kimmel Cultural Campus | |
| New Orleans, LA | 11/29/23 – 12/17/23 | Saenger Theatre | |
| San Antonio, TX | 12/20/23 – 01/07/24 | The Majestic Theatre | |
| Knoxville, TN | 01/10/24 – 01/21/24 | Tennessee Theatre | |
| Detroit, MI | 01/24/24 – 02/18/24 | Opera House | |
| Oklahoma City, OK | 02/21/24 – 03/10/24 | Civic Center Music Hall | |
| Austin, TX | 03/13/24 – 03/31/24 | Bass Concert Hall | |
| Memphis, TN | 04/03/24 – 04/21/24 | Orpheum Theatre | |
| Hartford, CT | 04/24/24 – 05/12/24 | The Bushnell | |
| Grand Rapids, MI | 05/15/24 – 06/02/24 | DeVos Performance Hall | |
| Toronto, ON | 06/05/24 – 07/21/24 | Princess of Wales Theatre | |
| Denver, CO | 07/24/24 – 08/25/24 | Buell Theatre | |
Wicked National Tour Cast
The Wicked National Tour cast showcases a talented ensemble of performers who bring the enchanting story to cities across the country. With each new tour, audiences are treated to exceptional actors who step into the roles of Elphaba, Glinda, and the entire cast, delivering captivating performances and maintaining the high standards set by the original production.
Wicked Tickets London, UK & Ireland
Experience the magic of Wicked on the London and UK Tour with our exclusive Wicked tickets London, UK & Ireland. Booking your tickets in advance is a fantastic idea to ensure you don't miss out on this sensational production.



Wicked continues to captivate audiences across the UK, bringing its enchanting story and spellbinding performances to various cities. By securing your Wicked tickets UK in advance, you guarantee your place at this extraordinary musical and increase your chances of obtaining the best available seats.
Booking ahead allows you to plan your visit and select the performance date that suits you best. It also ensures that you have a wider range of seating options to choose from. Whether you prefer orchestra seats for an up-close experience or balcony seats for a panoramic view, booking in advance provides you with a greater chance of securing your desired seating arrangement.


Witness the extraordinary talents of the cast, immerse yourself in the mesmerizing music, and be dazzled by the stunning production values of Wicked on its London and UK Tour. Don't delay — book your Wicked tickets London, UK & Ireland in advance and prepare for a theatrical experience like no other!
Wicked UK Tour Tickets & Venues
| | | | |
| --- | --- | --- | --- |
| City | Dates | Venue | Tickets |
| Edinburgh | 7 December 2023 – 14 January 2024 | Edinburgh Playhouse | |
| Bristol | 23 January 2024 – 25 February 2024 | Bristol Hippodrome | |
| Birmingham | 5 March 2024 – 7 April 2024 | Birmingham Hippodrome | |
| Bradford | 16 April 2024 – 19 May 2024 | Alhambra Theatre | |
| Southampton | 23 May 2024 – 16 June 2024 | Mayflower Theatre | |
| Liverpool | 20 June 2024 – 14 July 2024 | Liverpool Empire | |
| Dublin | 23 July 2024 – 15 September 2024 | Bord Gáis Energy Theatre | |
| Sunderland | 24 September 2024 – 20 October 2024 | Sunderland Empire | |
| Cardiff | 24 October 2024 – 23 November 2024 | Wales Millennium Centre | |
| Manchester | 3 December 2024 – 12 January 2025 | Palace Theatre Manchester | |
Wicked London, UK & Ireland Cast
The Wicked London, UK & Ireland cast brings the magic of the musical to stages across the United Kingdom. The cast delivers remarkable performances with a diverse array of talented actors. They are captivating audiences with their exceptional vocal abilities, stage presence, and interpretation of the beloved characters. Each member of the UK & Ireland cast contributes to the success and continued popularity of Wicked in the region.
Wicked Tickets – Q&A
How much are Wicked tickets?
The lowest Broadway price for Wicked tickets is $107.00, with an average price of $258.00. At the same time, front row Wicked tickets can cost $343.00 and more. For National Tour tickets, the prices can vary and sometimes be cheaper.
Do I need to buy Wicked tickets in advance?
It is highly recommended to purchase Wicked tickets in advance, especially for popular shows and peak times. This ensures you secure your desired seats and guarantees your admission to this beloved musical.
Where can I get Wicked discount tickets?
To find Wicked discount tickets, you can check various sources such as official ticketing websites, authorized resellers, or reputable ticket marketplaces. Additionally, keep an eye out for promotional offers, group discounts, and so on. Some special deals that may be available through official channels or authorized partners.
Where can I get Wicked cheap tickets?
A: To find Wicked cheap tickets, you can explore options such as discounted matinee performances, last-minute deals, or weekday shows that tend to have lower demand. Official ticketing websites, authorized resellers, and reputable ticket marketplaces often offer competitive prices.
How can I get Wicked tickets near me?
If you are searching for Wicked tickets near me, check the official tour website or authorized ticketing platforms. They usually provide a search feature that allows you to select your location and browse available shows. It's important in a local search. Additionally, local box offices or ticket outlets may offer tickets for nearby performances.
How long is Wicked the musical?
The running time of Wicked varies slightly, but it is typically around 2 hours and 45 minutes, including an intermission. Keep in mind that actual running times may vary depending on factors such as production changes or unforeseen circumstances.
Are there special prices for students and military?
Yes, Wicked often offers special prices for students and military personnel. These discounts are typically available through designated ticketing channels. It's advisable to check the official website, authorized resellers, or contact the box office directly to inquire about specific discounts and eligibility requirements.
What is the refund/exchange policy for Wicked tickets?
The refund and exchange policy for Wicked tickets can vary. It depends on the ticketing provider and the terms and conditions of the purchase. For example, there are no refunds on Broadway Wicked show. It's recommended to review the specific policy outlined at the time of purchase. Finally, you can contact the ticketing provider directly for more information. They will tell you everything about refunds or exchanges in case of unforeseen circumstances.