Wicked Tour in Atlanta, Georgia : Tickets and Musical Dates
Are you a huge fan of the Tony Award-winning musical, Wicked? Then you'll surely be delighted to know that Wicked Atlanta is coming in 2023! The world-known musical is one of the hottest events for theaters around the world. So, Atlanta audiences can look forward to an incredible show.
From its witty lyrics to its captivating score, every moment on Wicked at the Fox stage is sure to leave viewers spellbound. If you're looking for a magical evening filled with fun and laughter, then make sure you get your Wicked Atlanta 2023 tickets now. So, get ready to experience some phenomenal singing and dancing as Elphaba's tale of friendship and adventure comes alive on the Fox Theatre's legendary stage!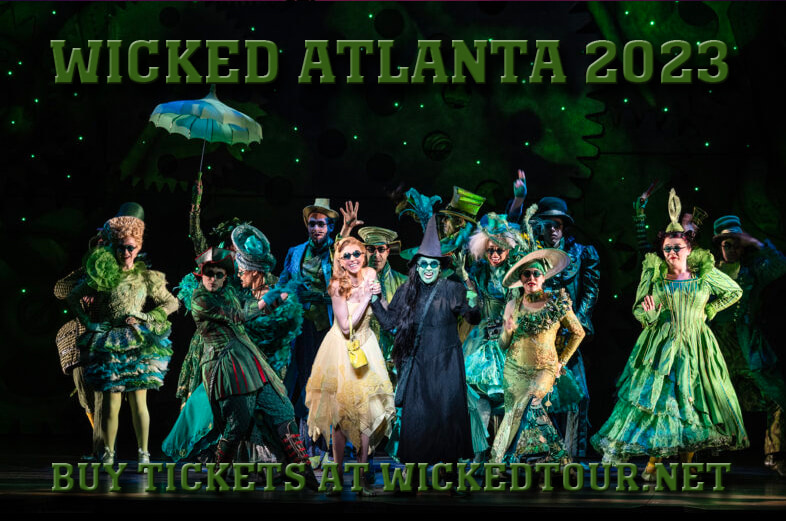 Wicked Atlanta 2023 – All About It
Get ready, Atlanta! The sensational musical phenomenon, "Wicked," is coming to your city in 2023, and it's an event you won't want to miss. This spellbinding production will instantly transport you from your daily routine to the magical Land of Oz.
With its breathtaking production that became even better in 2023-2024, "Wicked" is on the National Tour. It combines captivating storytelling, mesmerizing music, and stunning visuals to create an unforgettable theatrical experience. The music and lyrics are crafted by the talented Stephen Schwartz. You surely know the iconic songs such as "Defying Gravity" and "Popular". These ones just let you singing along and feeling the magic in the air!
Wicked was in Atlanta from September 14 to October 9, 2011, and from February 18 to March 8, 2015. The 2011 Wicked Atlanta cast featured the talents of Jackie Burns as Elphaba, Chandra Lee Schwartz as Glinda, Randy Danson as Madame Morrible, and Mark Jacoby as The Wizard.
What To Expect From Wicked The Musical
As the tale unfolds, you'll be introduced to Elphaba, the misunderstood green-skinned witch, and Glinda, the popular and bubbly blonde. Their unlikely friendship and individual journeys intertwine against a backdrop of political turmoil and personal struggles, challenging the notions of good and evil. The performances by the talented cast will transport you into their world, bringing to life the depth and complexity of these beloved characters.
The costumes and set design of Wicked in Atlanta are nothing short of extraordinary. The elaborate costumes transport you to a fantastical realm, with flowing gowns, intricate details, and a touch of emerald-green magic. The mesmerizing sets transport you from the halls of Shiz University to the grand Emerald City, immersing you in a world of wonder and enchantment.
Mark your calendars, because Wicked will be visiting Atlanta during  07/05/23 – 07/30/23 at the Fox Theater. Surely, the Fox Theater is one of Atlanta's' vibrant arts scenes, and it's the perfect destination for this unforgettable show. Whether you're a lifelong fan or new to the world of Oz, Wicked at the Fox promises to captivate and inspire audiences of all ages. The universal themes of friendship, acceptance, and the power of standing up for what you believe in are still valuable!
Wicked Tickets Atlanta
Secure your Wicked Atlanta 2023 tickets and join the thousands who will gather to witness this extraordinary production. Don't miss out on this limited engagement that promises to leave you spellbound and wanting more. Experience the magic of Wicked in Atlanta and be transported to a world where witches defy gravity and friendships change the course of history.
Date & Time
Tickets
July 12, 7:30 PM
July

 

13

7:30 PM

July 14 8:00

PM

July 15 2:00 PM
July 15 8:00 PM
July 16 1:00 PM
July 16 6:30 PM
July 18 7:30 PM
July 19 7:30 PM
July 20 7:30 PM
July 21 8:00 PM
July 22 2:00 PM
July 22 8:00 PM
July 23 1:00 PM
July 23 6:30 PM
July 25 7:30 PM
July 26 7:30 PM
July 27 7:30 PM
July 28 8:00 PM
July 29 2:00 PM
July 29 8:00 PM
July 30 1:00 PM
July 30 6:30 PM
Wicked Atlanta Fox Theater 2023: Seating Chart
Look at the seating scheme and choose your best seats to watch the Wicked musical Atlanta. And book fast – the tickets are selling like hotcakes!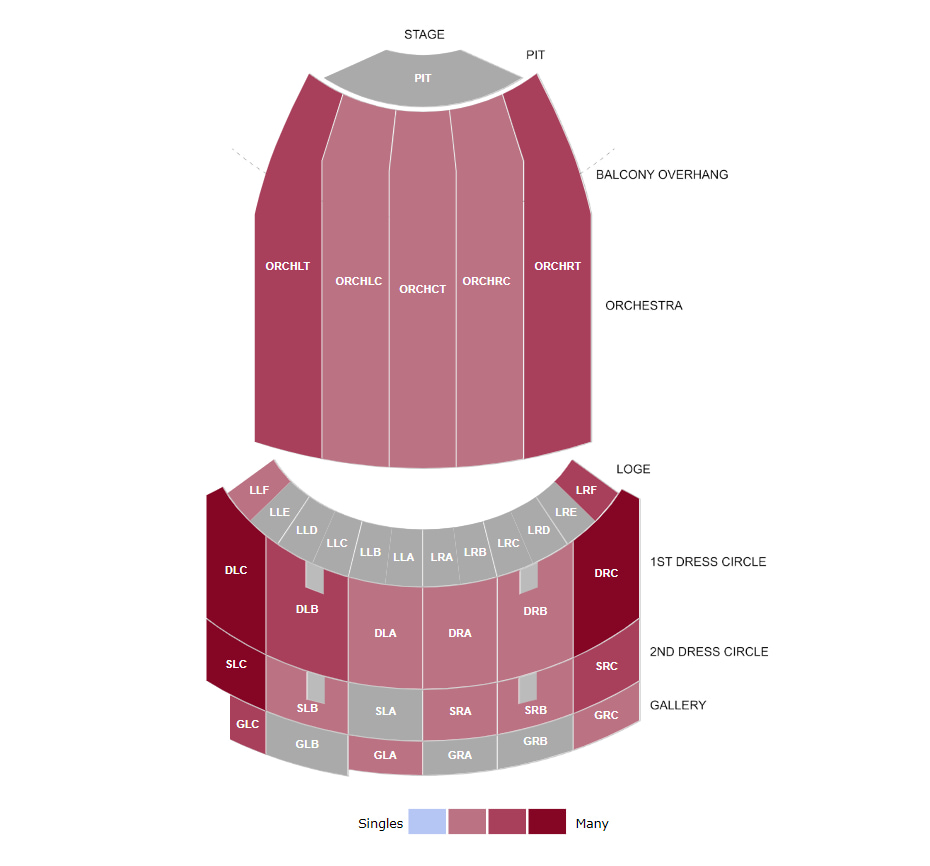 Atlanta Fox Theater Wicked – How To Get There
The Fox Theater Upcoming Performances
The Fox Theater Upcoming Performances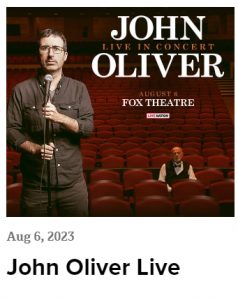 Watch The Wicked Video
Wicked Atlanta 2024 Q&A
Q: How much are tickets for Wicked in Atlanta?
A: Ticket prices for Wicked in Atlanta can vary depending on many factors. As you know, the seating location, date, and availability are the factors that form the price. In Atlanta, the prices vary from $66.50 to $232.00. Anyway, it's best to check the official website of the venue, or trusted ticketing platforms like wickedtour.net for the most accurate and up-to-date pricing information.
Q: What can I expect from the show?
A: Prepare to fly to the magical Land of Oz as you experience the awe-inspiring production of Wicked Atlanta 2023. This beloved musical offers a captivating storyline, powerful performances, unforgettable music, and breathtaking visuals. You can expect to witness the deep friendship between Elphaba and Glinda, explore themes of acceptance and bravery, and be captivated by the enchanting world created on stage.
Q: How can I get tickets to the musical Wicked?
A: There are multiple ways to secure tickets to Wicked in Atlanta. You can visit the official website of the Fox Theater, which often provides direct ticket sales. Additionally, trusted ticketing platforms as wickedtour.net and authorized resellers also offer tickets for purchase. It's advisable to book your Wicked tickets Atlanta early to secure your preferred date and seating location.
Q: How long is Wicked the musical?
A: The running time of Wicked is approximately 2 hours and 45 minutes, including one intermission. This allows ample time for the compelling story to unfold.
Q: How can I get the best seats to the musical Wicked?
A: To secure the best seats for Wicked, it is recommended to book your tickets as early as possible. Popular performances and weekends tend to sell out quickly. So, purchasing Wicked Atlanta tickets 2023 in advance gives you a better chance of obtaining desirable seating locations. Finally, some venues like Fox Theater may offer premium or VIP seating options that provide enhanced views and additional amenities.
Q: Are there translation devices available?
A: Availability of translation devices may vary depending on the venue's policies and the specific production of Wicked. The Fox Theatre in Atlanta offers a range of accessible services to enhance the theater experience for all patrons. These services include American Sign Language (ASL) interpreters, audio description for the visually impaired, and assisted listening devices such as Phonic Ear systems. By providing these accommodations, The Fox Theatre ensures that individuals with different accessibility needs can fully enjoy the magic of live performances in an inclusive and welcoming environment.