Wicked Tour Opera House in Detroit, Michigan : Tickets and Musical Dates
Get ready to be spellbound as the enchanting world of "Wicked" comes alive in the heart of Detroit! This phenomenal musical is going to take the Motor City by storm. How would Wicked Detroit 2024 do it? Of course, with its unforgettable melodies, mesmerizing storytelling, and breathtaking performances.
Step into the extraordinary journey of two unlikely friends, Elphaba and Glinda, as they navigate the Land of Oz, challenging our preconceived notions of good and evil. With its gravity-defying spectacle and witty charm, "Wicked" promises an evening of pure theatrical magic. Don't miss your chance to be part of this spellbinding experience. So, secure your Wicked tickets now and let this emerald-tinted wonder captivate you in Detroit!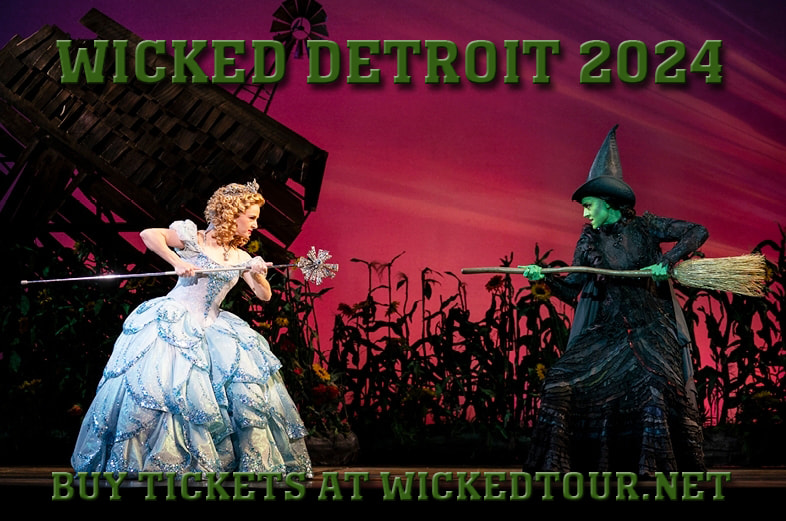 Wicked Detroit – All About It
Prepare to be swept away by the spellbinding production of "Wicked"! It arrives in the vibrant city of Detroit during its highly anticipated National Tour in 2024. This beloved musical, based on Gregory Maguire's best-selling novel, takes audiences on a captivating journey into the untold story of the witches of Oz.
With music and lyrics by the renowned Stephen Schwartz, Wicked Detroit weaves a mesmerizing tapestry of enchanting melodies. Believe us, they will resonate long after the final curtain call. The talented cast brings the iconic characters of Elphaba, the misunderstood green-skinned witch, and Glinda, the popular and bubbly blonde, to life with their extraordinary performances. As they navigate the Land of Oz, their complex friendship unfolds against a backdrop of mysteries, self-discovery, love, and political intrigues.
The production of "Wicked" is called a feast for the senses – and not without a reason! Those stunning sets, awe-inspiring choreography, and eye-catching costumes transport you to a world where emerald-green magic and flying monkeys exist. From the first note to the last, the show captivates audiences of all ages with its heartfelt storytelling and universal themes of acceptance and bravery.
What Are The Dates?
Detroit is waiting to welcome "Wicked" to its vibrant theater scene. The dates are January 24 – February 18, 2024. The city's rich cultural heritage and love for the arts make it the perfect backdrop for this iconic musical. Besides, the performance venue in Detroit is Opera House, as usual. It provides a state-of-the-art setting that enhances the immersive experience. Of course, every seat in the Opera House offers an amazing view of the enchantment unfolding on stage of Wicked in Detroit.
If you're eager to witness the magic of "Wicked" in Motor City, secure your Wicked tickets Detroit for the 2024 National Tour. Don't miss this limited engagement that promises to leave you awe-inspired and uplifted. "Wicked" is a must-see theatrical extravaganza that will ignite your imagination and leave you wanting more. Whether you're a die-hard fan or new to the world of Oz, it will do this. So, why are you waiting?
Wicked Detroit Tickets
Get your Wicked Detroit tickets 2024 now. Embark on an unforgettable journey through the land of witches, friendship, and the true meaning of "wickedness"!
| | |
| --- | --- |
| Date & Time | Tickets |
| Wed, Jan 24, 2024 8:00 PM | |
| Thu, Jan 25, 2024 8:00 PM | |
| Sat, Jan 27, 2024 8:00 PM | |
| Sun, Jan 28, 2024 2:00 PM | |
| Tue, Jan 30, 2024 8:00 PM | |
| Wed, Jan 31, 2024 8:00 PM | |
| Thu, Feb 1, 2024 8:00 PM | |
| Sat, Feb 3, 2024 2:00 PM | |
| Sat, Feb 10, 2024 8:00 PM | |
| Sat, Feb 17, 2024 2:00 PM | |
| Sat, Feb 17, 2024 8:00 PM | |
Wicked Detroit Opera House 2024: Seating Chart
Look at the seating chart and choose your favorite place to watch the Wicked musical in Opera House, Detroit.

Detroit Opera House Wicked – How To Get There
Detroit Opera House is located in the Downtown. Here's a map for your convenience:
Detroit Opera House Upcoming Performances
Watch The Wicked Video
Wicked Detroit 2024 Q&A
Q: When do Wicked tickets go on sale at Detroit Opera House?
A: Wicked tickets for the Detroit Opera House go on sale on Jan 01 – Feb 18 (2024). We recommend you to keep an eye on the official website of the Detroit Opera House. Or visit trusted ticketing platforms like wickedtour.net for the most up-to-date information on ticket sales.
Q: What can I expect from Wicked musical Detroit?
A: Prepare to be swept away by the enchanting world of Wicked! You won't regret visiting the show, that's for sure. This musical – or, better, masterpiece – delivers a captivating and emotional journey that explores the untold story of the witches of Oz. In other words, expect a spellbinding blend of awesome music, incredible performances, breathtaking sets, and dazzling costumes. As the story unfolds, you'll witness the deep friendship between Elphaba and Glinda, the complexities of their lives, and the everlasting of acceptance and courage.
Q: How can I get tickets to the musical Wicked?
A: Getting tickets to Wicked in Detroit is easy! You can purchase tickets through the official website of the Detroit Opera House, which is the primary venue for the show. Alternatively, trusted ticketing platforms and authorized resellers often offer tickets for sale. Finally, it's advisable to book your tickets early to secure the best seats and ensure availability for your preferred performance date.
Q: How long is Wicked the musical?
A: The running time of Wicked is approximately 2 hours and 45 minutes, including one intermission. This thrilling musical allows you to fully immerse yourself in the captivating storyline and the extraordinary world of Oz.
Q: Are there refunds available for Wicked tickets?
A: Refund policies may vary depending on the ticket provider or the venue, Opera House of Detroit. So, it is advisable to review the specific terms and conditions associated with your Detroit Opera House Wicked ticket purchase.
Q: What about health and safety?
Wicked the Musical is committed to providing a healthy and safe environment for audiences, performers and staff. Read the health and safety information here.
Q: Is the venue wheelchair accessible?
A: Yes, the Detroit Opera House provides wheelchair accessibility to ensure that everyone can enjoy the magic of Wicked. The venue provides a comfortable and inclusive experience for all patrons. Wheelchair-accessible seating options and accessible facilities are available to accommodate individuals with mobility needs. So, it is recommended to inform the ticket provider or Wicked Detroit Opera House 2024 in advance to ensure appropriate arrangements are made.
Past visits by Wicked to Detroit's Opera House include:
August 7 to September 2, 2018
December 10, 2014 to January 4, 2015
December 7 to 31, 2011