Wicked Tour in Greenville, SC: Tickets and Musical Dates
Step into the bewitching world of Wicked as it casts its magical spell over Greenville! Get ready to be mesmerized by the captivating musical Wicked Greenville SC 2023. It unveils the amazing untold story of the witches of Oz. With its soaring melodies, mesmerizing performances, and breathtaking production, Wicked promises an enchanting experience like no other.




Join Elphaba and Glinda on their extraordinary journey of friendship, courage, and self-discovery, as they challenge our perceptions of good and evil. Don't miss your chance to be part of this enthralling adventure – secure your Wicked Greenville tickets 2023 now! And be ready to follow their journey that will leave you stunned & spellbound!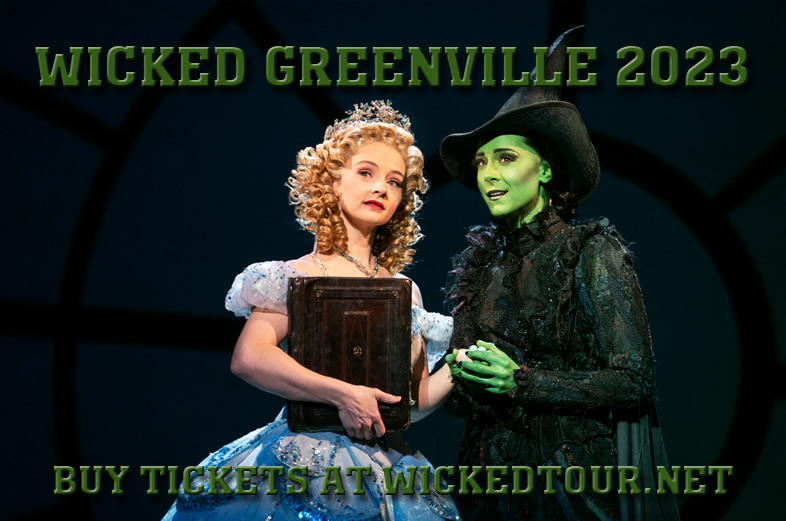 Wicked Greenville 2023 – All About It
Get ready, Greenville, for a theatrical experience like no other as the acclaimed musical Wicked makes its way to your city in 2023! This mesmerizing production will transport you to the extraordinary world of Oz, where the untold story of the witches will unfold before your eyes.
The heart and soul of Wicked Greenville SC lie in its captivating storytelling and unforgettable music. Crafted by the brilliant Stephen Schwartz, the score features iconic songs such as "Defying Gravity" and "For Good". These masterpieces are leaving audiences with goosebumps and hearts full of emotion. The production's attention to detail and stunning sets create a visual spectacle that immerses you in the enchanting Land of Oz.
At the center of the story are two unlikely friends. Elphaba, the misunderstood and green-skinned witch, and Glinda, the popular and bubbly blonde. Their journey of self-discovery and friendship against the backdrop of political intrigue captivates audiences of all ages. And the talented performers bring these beloved characters to life! They're delivering powerful and moving performances that tug at the heartstrings.
The cast of Wicked brings together seasoned professionals who breathe life into the complex characters, leaving a lasting impact on all who witness their talents on stage. Their chemistry and skill create a dynamic and spellbinding performance that will leave you in awe. So, find out what really happened before Dorothy came calling in this Broadway production!
Dates & Venue
The anticipated visit of Wicked National Tour to Greenville will take place from August 2 – 20, 2023 at Peace Center. Greenville's vibrant arts community and passion for live theater make it the perfect destination for this spectacular show. As the show weaves its magic, audiences will be transported into a world of friendship, acceptance, and the power of courage.
Prepare to be swept away by the soaring melodies, thrilling performances, and the emerald-tinted wonder of Wicked as it weaves its spell over Greenville in 2023. Let the magic begin!
Wicked Greenville Tickets 2023
Don't miss this extraordinary opportunity to witness legendary show in Greenville. Secure your Wicked tickets Greenville early to ensure the best seats and to guarantee a night of enchantment and wonder. Whether you're a seasoned theatergoer or a first-time attendee, Wicked promises an unforgettable experience that will linger in your heart long after the final applause. So, buy the tickets now – tomorrow they may disappear! Tickets start at $78.
| | |
| --- | --- |
| Date & Time | Tickets |
| August 2, 2023 | Wed 7:30pm | |
| August 3, 2023 | Thu 2:00pm | |
| August 3, 2023 | Thu 7:30pm | |
| August 4, 2023 | Fri 8:00pm | |
| August 5, 2023 | Sat 2:00pm | |
| August 5, 2023 | Sat 8:00pm | |
| August 6, 2023 | Sun 1:00pm | |
| August 6, 2023 | Sun 6:30pm | |
| August 8, 2023 | Tue 7:30pm | |
| August 9, 2023 | Wed 7:30pm | |
| August 10, 2023 | Thu 7:30pm | |
| August 11, 2023 | Fri 8:00pm | |
| August 12, 2023 | Sat 2:00pm | |
| August 12, 2023 | Sat 8:00pm | |
| August 13, 2023 | Sun 1:00pm | |
| August 13, 2023 | Sun 6:30pm | |
| August 15, 2023 | Tue 7:30pm | |
| August 16, 2023 | Wed 7:30pm | |
| August 17, 2023 | Thu 7:30pm | |
| August 18, 2023 | Fri 8:00pm | |
| August 19, 2023 | Sat 2:00pm | |
| August 19, 2023 | Sat 8:00pm | |
| August 20, 2023 | Sun 1:00pm | |
| August 20, 2023 | Sun 6:30pm | |
Wicked Greenville Peace Center 2023: Seating Chart
Look at the scheme of the seats and choose the ones you prefer for the Wicked musical in Greenville, SC. And we advise you to book fast – you know why.
Greenville Peace Center Wicked – How To Get There
The Peace Center Upcoming Performances
Watch The Wicked Video
Wicked Tour Greenville 2023 Q&A
Q: What can I expect from the show?
A: Prepare to be enchanted by the magical world of Wicked musical Greenville! This spectacular musical delivers a captivating storyline, mesmerizing music, and breathtaking performances. Witness the extraordinary journey of two unlikely friends, Elphaba and Glinda, as they challenge our perceptions of good and evil in the Land of Oz. Expect a visual feast of stunning sets and dazzling costumes that transport you to a world of wonder and enchantment, leaving you with lasting memories and a heart touched by the power of friendship.
Q: How much are tickets for Wicked Greenville at Peace Center?
A: Ticket prices for Wicked at Peace Center can vary depending on factors such as seating location, date, and availability. To find the most accurate and up-to-date pricing information, visit the official website of Peace Center or trusted ticketing platforms like wickedtour.net. Early booking often ensures access to a wider range of ticket options and better seating choices.
Q: How to get the best seats to the musical Wicked at Peace Center?
A: To secure the best seats for Wicked at Peace Center, it is advisable to book your tickets as soon as they become available. Early ticket purchases provide a greater chance of obtaining desirable seating locations. Some venues may offer premium or VIP seating options, which offer enhanced views and additional amenities. Keep an eye on official announcements and opt for presale opportunities. As you know, this will also increase your chances of securing prime seats.
Q: Are there refunds?
A: Refund policies for tickets to Wicked at Peace Center may vary depending on the ticket provider or the venue's guidelines. In general, there are no refunds on the Wicked tickets, if the show wasn't canceled. However, certain platforms or venues may offer refund options or ticket exchanges, subject to their individual policies.
Q: Where can visitors buy drinks and snacks in Peace Center?
A: Peace Center offers various concessions and snack bars where visitors can purchase drinks, snacks, and refreshments before or during the show. These options allow guests to indulge in a delightful culinary experience while enjoying the magic of Wicked. However, drinks and snacks are not allowed during the musical itself. You can enjoy them during the intermission.
Q: Is the venue Peace Center wheelchair accessible?
A: Yes, Peace Center is  providing an inclusive and accessible experience for all patrons. The venue offers wheelchair accessibility and facilities. This ensures that everyone can enjoy the magic of Wicked comfortably. Wheelchair-accessible seating options and other accessibility services are available to accommodate individuals with mobility needs.